Veggie dogs look a lot different than they did a decade ago. The idea of a vegan hot dog has evolved from tinted tofu squished into the semblance of a sausage to seitan and pea protein-based meaty links that sizzle and snap with every bite. No matter which brand you bring to the barbecue, one thing is clear—they all beat out the meat batter stuffed into synthetic casings. Here's everything you need to know about vegan hot dogs. 
How the sausage is made
According to the National Hot Dog and Sausage Council, Americans eat an average of 20 billion links per year (about 70 per person). Yes, we're cringing, too. Hot dogs are made from an amalgamation of animals including pigs, cows, turkeys, chicken, or a blend of all four. The "trimmings" from the meat of these animals are blended with spices and other ingredients into an emulsified batter—essentially thick, liquified meat—which is extruded into casings, heated through, then run under cool water where the liquid meat solidifies. Behold, one of America's favorite foods. 
Vegan hot dogs: the first wave
The first of anything is difficult to pin down—particularly when it comes to food. Worthington Foods—the parent company of Morningstar which is now owned by the Kellogg company—claims to have debuted the first commercially sold vegetarian hot dog in the 1970s. Then, Lightlife (formerly Tempeh Works), launched vegan soy-based Smart Dogs in 1993. These pink links dominated the vegan hot dog market—and still contribute to a large portion of plant-based hot dog sales—for nearly two decades. 
Today, most vegan meat companies offer their version of a sausage or a frank, but the ingredient list has expanded far beyond tofu. Manufacturers use a mix of soy and vital wheat gluten, go all-in with a chewy seitan base, or rely on veggies and beans to replicate the taste and texture of this stadium favorite. 
#Trending: carrot dogs
On May 24, 2018, The Washington Post published a recipe by food journalist Joe Yonnan for carrot dogs. No doubt this was not the first public mention of the carrot dog—Yonnan himself adapted it from a recipe in the Chubby Vegetarian cookbook—but this particular media outlet offered publicity yet unseen by this veggie dog. The outcry was immediate and merciless—Yonnan was roasted as severely as his charred carrots. In his case, bad press was good press, because the carrot dog took off. 
A quick Google search for carrot dog will proffer over 16 million results, and it's not only from vegan sources. Even the Food Network has a recipe courtesy of celebrity host Katie Lee Biegel. They may not taste exactly like the pork or beef product you grew up on, but you may be surprised what a simple marinade and a good char can do to the humble carrot. 
Are vegan hot dogs healthy?
Healthy is a relative term—a better question is are vegan hot dogs healthier than the alternative (meat)? The short answer is yes. Despite the wide range of vegan hot dog options with the nutritional range to match, plant-based hot dogs are not as detrimental to human health as their animal-based counterparts. The reason simply comes down to the fact that they are made out of plants. They do not contain cholesterol, trans fats, hormones, or the carcinogenic compounds found in traditional meat-based hot dogs. Remember that the International Agency for Research on Cancer classifies processed meat—which includes hot dogs, no matter how "natural" the package claims—as a carcinogen, or a cancer-causing substance. 
Beyond this health advantage, it's not accurate to claim that all plant-based sausages are completely beneficial for your body. The products that go above and beyond to replicate meat tend to be higher in fats (both saturated and unsaturated) and calories than the recently popular carrot dog or the tofu-based links of the vegan hippie era. While vegan hot dogs are a stellar choice when it comes to the environment and animal welfare, they should be consumed the same way any treat is consumed—in moderation.  
7 Vegan Hot Dogs To Try

Lightlife
1. Lightlife
The original vegan hot dog company now has not one but two frankfurter products. Smart Dogs are still in stock nationwide, but Lightlife also carries a jumbo version of this classic link. Made with the same ingredients, the jumbo option is closer to the size of the standard-sized hot dog. We recommend using the original Smart Dogs for appetizers such as vegan pigs in a blanket and the jumbo size for grilling. 
Find these franks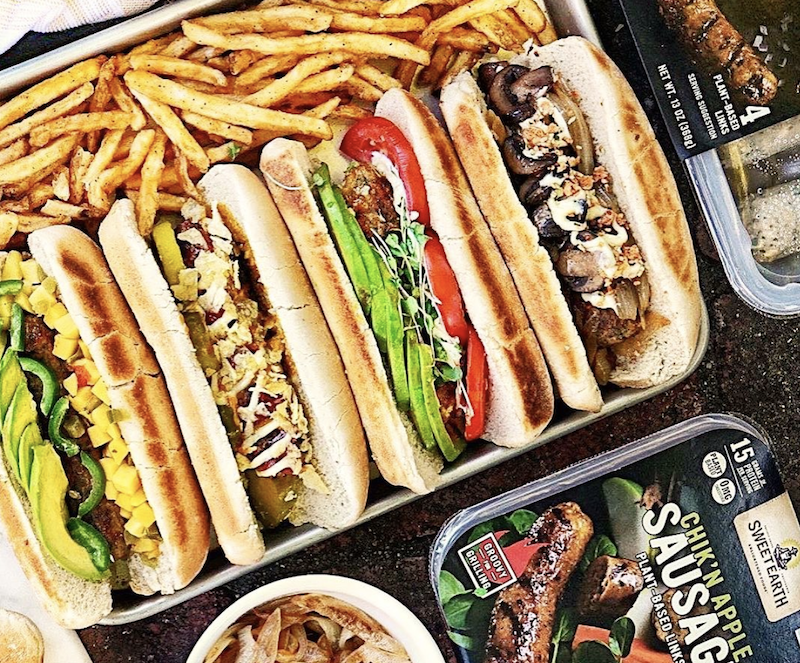 Oinker Eats
2. Sweet Earth Foods
Not to be outdone, this vegetarian food company launched its own jumbo vegan hot dogs in 2021. Sweet Earth claims its links are 23-percent larger than the competing vegan hot dog, making them ideal for bready vegan brioche or pretzel-style buns. 
Find these franks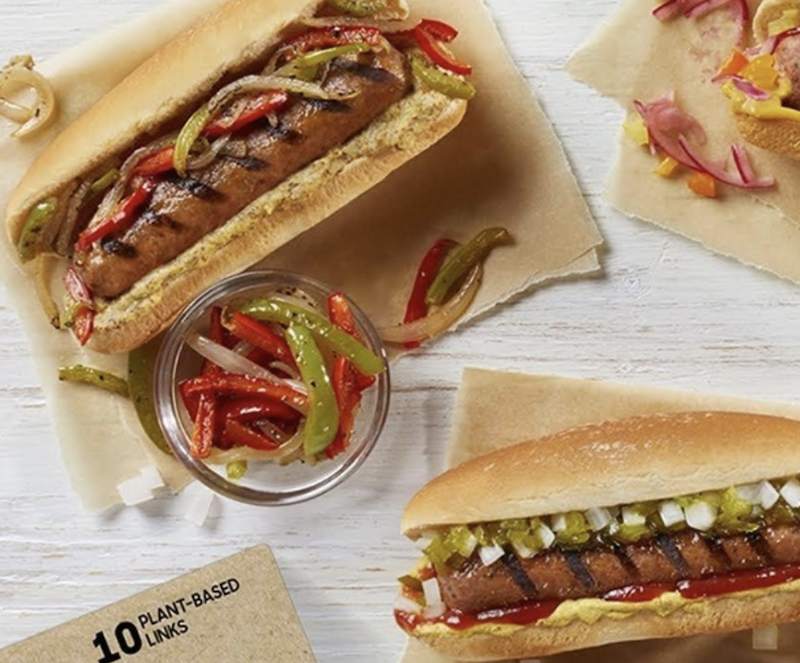 Beyond Meat
3. Beyond Meat
The Beyond Sausage set a new bar when it launched in 2018. The beloved plant-based meat brand debuted three variations of its unprecedented product—the Original Brat, Hot Italian, and Sweet Italian. All flavors promise to deliver on the essentials of a meaty frank—they sizzle, snap, and spurt juiciness with every bite. 
Find these franks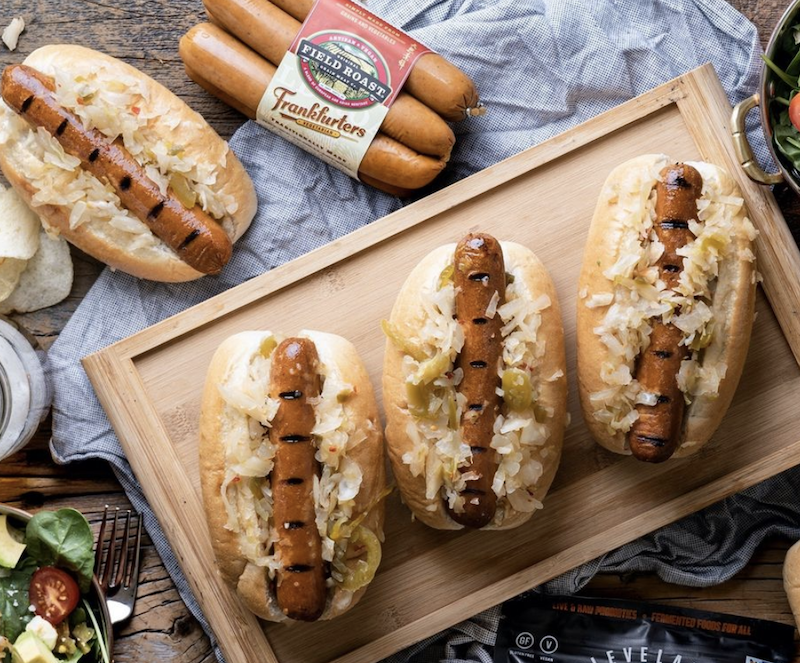 Field Roast
4. Field Roast
There's more to Field Roast than Fruffalo Wings. This plant-based company really excels when it comes to smoked meat analogs. Try the no-fuss Signature Stadium Dogs or the Classic Smoked Plant-Based Frankfurters. No need to gussy them up—a squirt of ketchup and mustard is all you need to time-travel back to your hot dog-eating days. 
Find these franks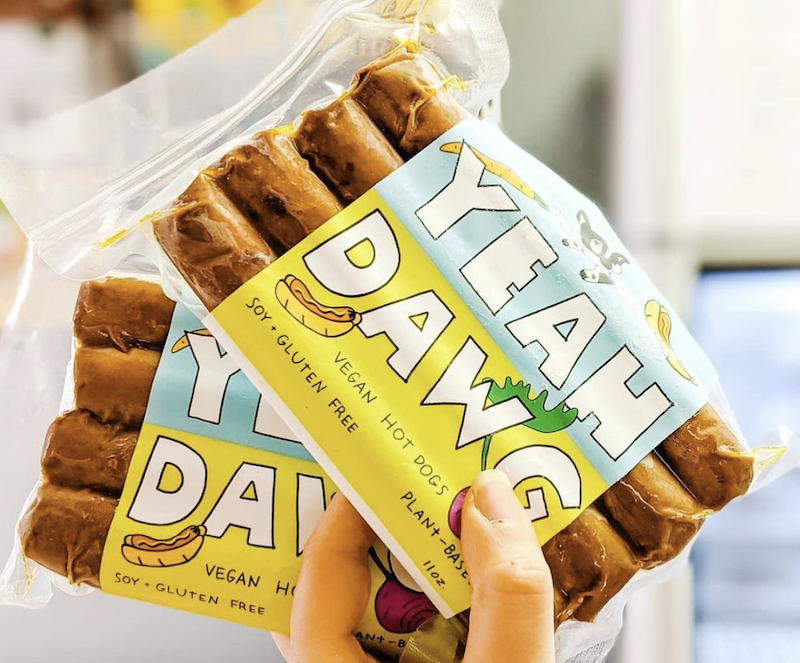 Yeah Dawg
5. Yeah Dawg
There's no mistaking this vegan business' specialty. These small batch plant-based hot dogs are made with a blend of beets, sweet potatoes, potatoes, carrots, sunflower seeds, and gluten-free flours. Unlike many of their competitors, Yeah Dawgs are soy- and gluten-free. Find them in vegan-friendly markets or order online. 
Find these franks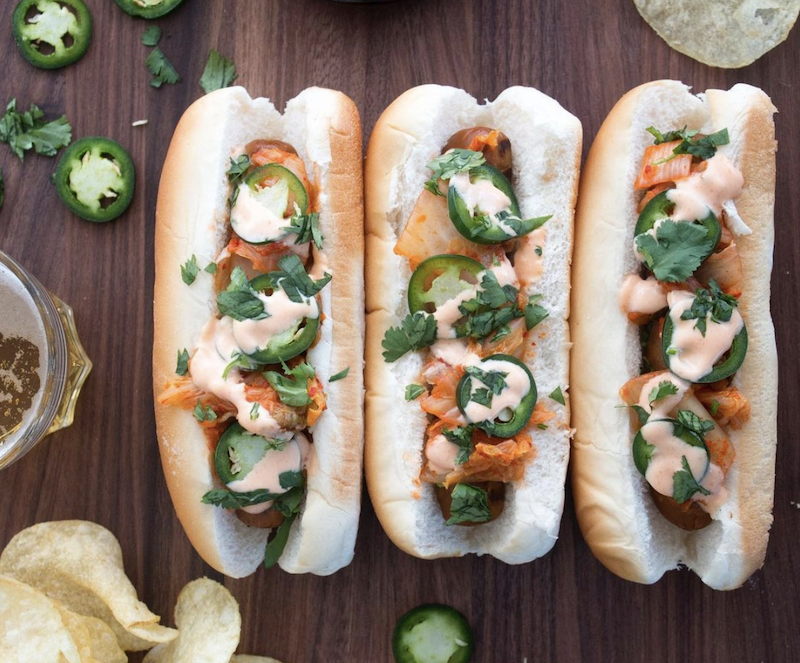 Tofurky
6. Tofurky 
Once known for its vegan Thanksgiving centerpiece, Tofurky has all the options when it comes to meaty plant-based eats. For a classic feel, opt for the Jumbo Plant-Based Hot Dogs—they only get better with a line of ketchup, a pile of relish, and a squirt of mustard. For franks with a bit more flavor, choose from the company's line of vegan sausages including Spinach Pesto, Andouille, Italian, Kielbasa, or Beer Brats. 
Find these franks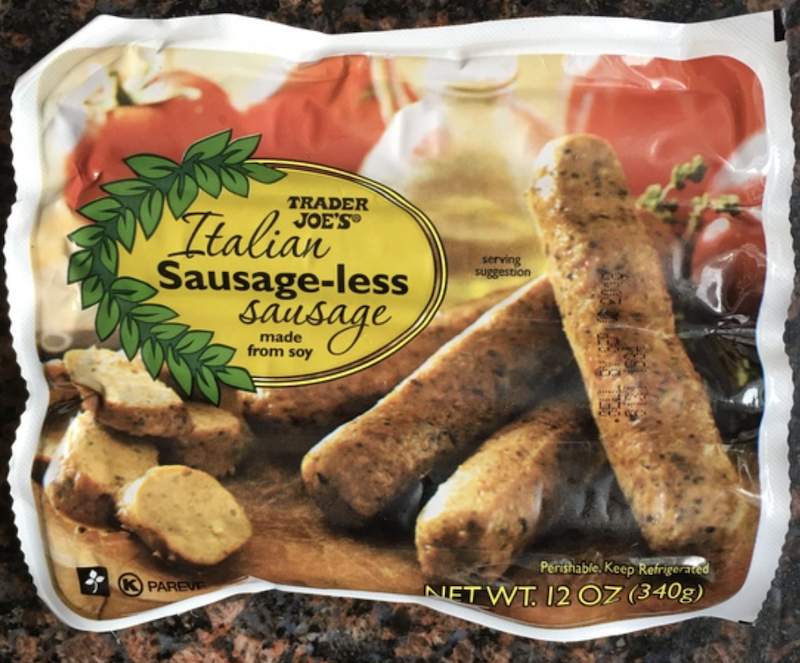 Spoon University
7. Trader Joe's Italian Sausage-less Sausage
From cheesecake to mac and cheese, Trader Joe's nearly has a vegan version of its most popular name brand items. The grocer's Italian Sausage-less Sausages pack in plenty of flavor, so pair them with toppings that complement the herbs and spices. Grilled peppers and onions or a marinara sauce would work well. 
Ready to fire up the grill? Check out the Essential Vegan Guide to Summer Grilling.
Tanya Flink is a Digital Editor at VegNews as well as a writer and fitness enthusiast living in Orange County, CA.
Love the plant-based lifestyle as much as we do?
Get the BEST vegan recipes, travel, celebrity interviews, product picks, and so much more inside every issue of VegNews Magazine. Find out why VegNews is the world's #1 plant-based magazine by subscribing today!