The last day of our cruise brings us to a new cruise port, Freeport.
Freeport is on Grand Bahama Island, and this is the first time I've been able to explore this port of call.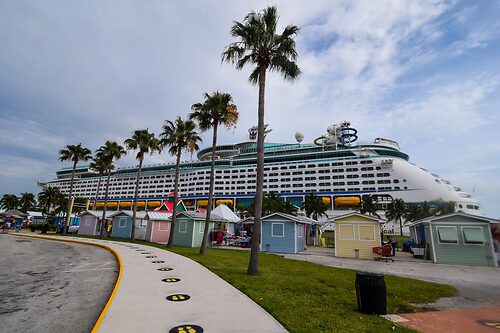 There are not many choices for what to do, so I booked a visit to the Grand Lucayan resort.
The Grand Lucayan is a famous resort on the island that Royal Caribbean is likely purchasing to transform as part of a new redevelopment project. I thought it might be nice to see what there is to do now, and how it looks like.
Our times in port were 7:00am to 3:30pm, so it made for limited hours on shore since nothing in any Caribbean port opens before 9am.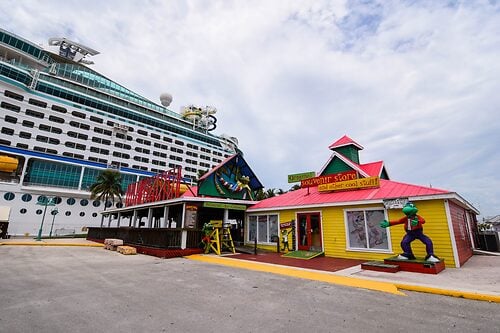 We walked through the port area, which had shops and bars.  These were all closed, although some opened later in the day.
We took a taxi to the hotel (~$35 each way) to the hotel. Our taxi driver said we were his first fare in a year and a half.
Once we got to the hotel, we checked in at the front desk.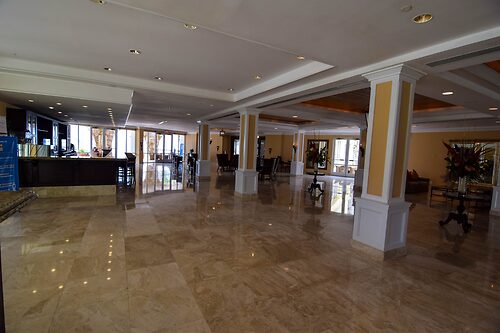 There are two resorts: The Grand Lucayan and Lighthouse Pointe.  The Grand Lucayan is closed, but Lighthouse Pointe is open.
We arrived right around 9am, and I actually booked a hotel room on an all-inclusive rate.  At the time of booking, the hotel was not taking day passes, but they are doing that now.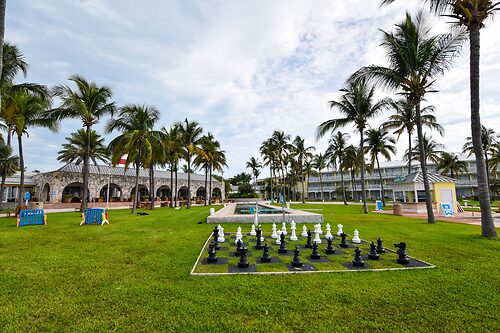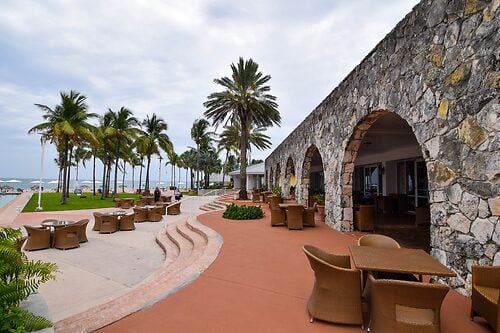 The day pass rate is $75 per adult, and $65 for kids.
With the all inclusive option, you get food and drinks at all the restaurants at Lighthouse Pointe, house wines by the glass, local beers, and bottled beers and some premium liquors.
Perrier Water, Vitamin water, Gatorade, Wine by the bottle, and top shelf brands are not included.
We immediately headed to the pool and beach.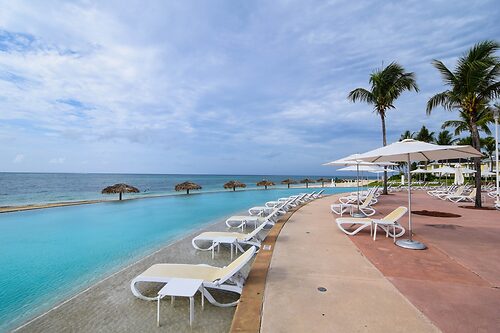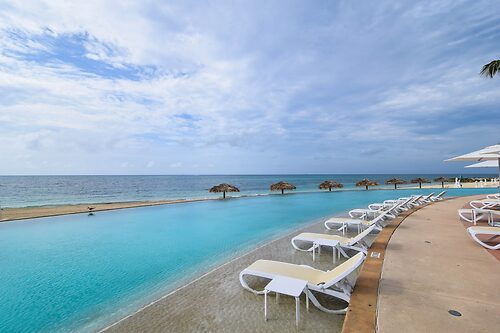 There is an infinity pool and lap pool available, along with a hot tub. Both looked great, and there is chairs and umbrellas you can sit at.
The beach was really nice, and the sand was powdery soft.  If it had not been mostly overcast, it would have been really pretty.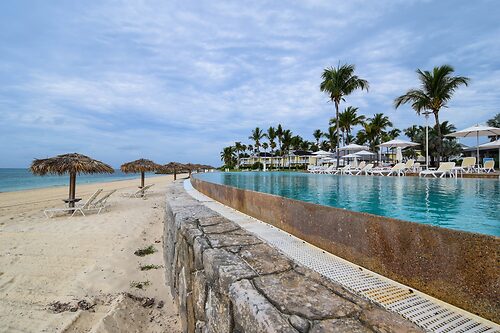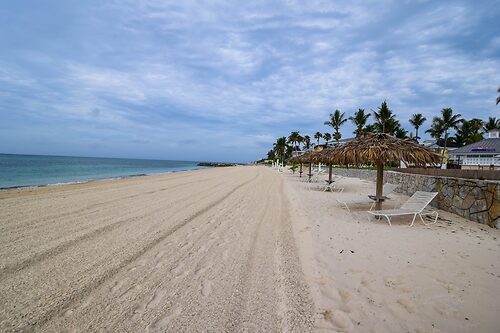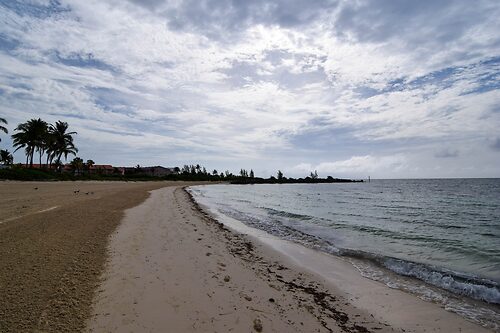 There was no waiter service, but the nearby beach bar was just steps away from the pool and beach.  They opened at 11am and served drinks and lunch.
You can tell the resort is in need of some upgrade work, but for a day guest it was fine.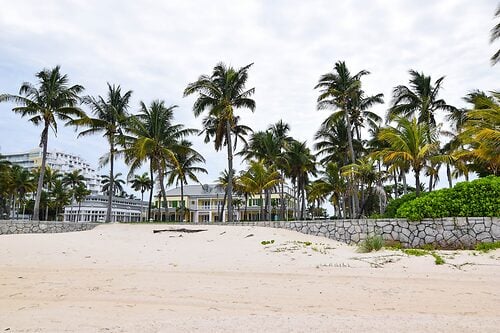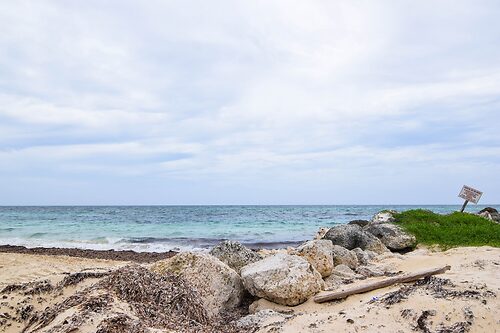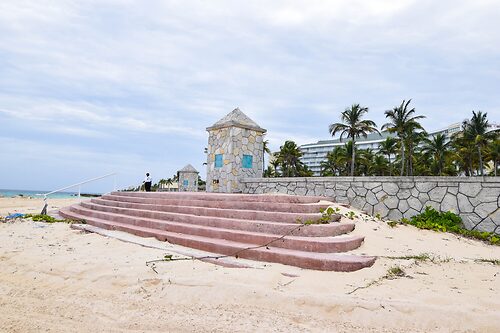 What stood out the most to me was the fact there were barely any other guests. For the first hour or two, we did not see anyone else at the beach or pool.
By the time we left, we saw perhaps 10 other guests in total.  It was strange.
We had lunch from the pool bar, and they had a nice selection of food choices. Burgers, wings, fish and more.  Pretty good quality and fresh cooked.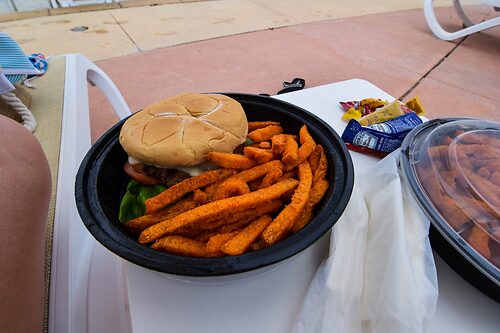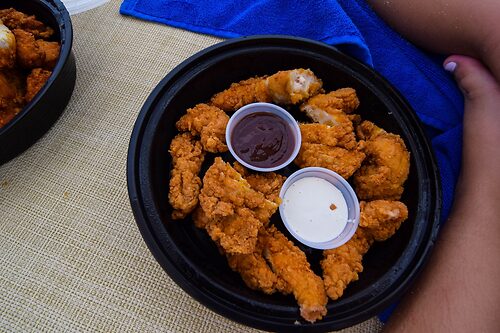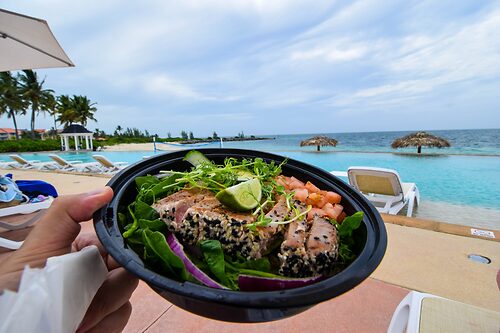 We had a nice time enjoying the infinity pool to ourselves. Being an all-inclusive, I'm certain we did not get our moneys worth in terms of food and drink, but it was interesting to see this resort in person.
Would I go back? I am debating that right now for our next sailing. It sounds like a lot of other cruisers did not enjoy their tours, so we may just stay onboard the ship next time.